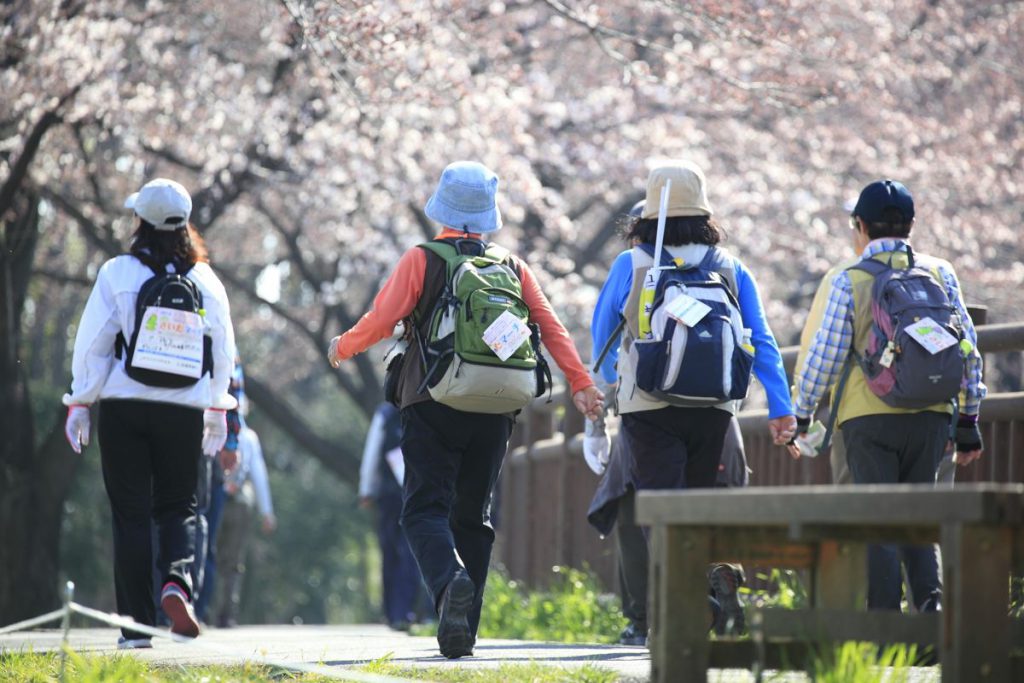 Saitama City is a city where modernized town areas and rich greenery exist in harmony. Especially, Minuma Tambo, located in the central part of the city, is a valuable extensive green space occupying a vast area that is easily accessible from the railway stations in the suburbs of Tokyo, and where rice fields, farms, copses, a rural scenery with rivers and Minuma-daiyousui (an agricultural waterway), and an abundance of nature cultivating lives are preserved even today.
"Saita-March – Minuma Two-Day Walk –" is held as a walking event that promotes fitness with healthy mind and body, while widely introducing Minuma Tambo's natural environment and regional resources, and communing with nature.
If the event coincides with the flowering time, we will get to enjoy walking and cherry-blossom viewing at the same, which is another attraction of Minuma Tambo. (We are praying for their bloom.)
Event name
The 8th Saita-March – Minuma Two-Day Walk –
Date
Saturday, Mar 28, 2020 – Sunday, Mar 29, 2020. No postponement for rain.
※"2020 Saitam-Marche" will be held concurrently, like always!
Venue
Around Saitama-Shintoshin and Minuma Tambo
Main venue (starting point and goal):
Saitama-Shintoshin Park (1-190-24 Kitabukurocho, Omiya-ku, Saitama City)
8 minutes' walk from the East Exit of JR Saitama-Shintoshin Station.
Routes
Saturday 28 / The Minuma Tambo South Route (for fully enjoying Minuma-daiyousui and the Shiba River)
Sunday 29 / The Minuma Tambo North Route (for relishing Omiya Park and the town of dolls: Iwatsuki)
Schedule (same for two days)
Participants
Any healthy person, regardless of his/her age and gender, can participate. (A child under 12 years of age and a person requiring assistance must be accompanied by a guardian/conductor and caregiver, respectively.)
Participation fees
(1)Participation fees include the charges for the event materials (bibs, course maps, souvenirs, etc.) and accident insurance fee.
(2)Participation fees for the either of the days and both days are the same.
(3)Free for preschool children/FREE for the children of Elementary School, Junior High School, High School, Secondary School, Special Support School(incl. chaperons) only when they apply through school(Bibs and Course map only)
(4)Participation fees, once paid, cannot be refunded for any reason.
(5)Registration on the day will be carried out on a first-come, first-served basis, and it will close as soon as the material runs out.
Group discount
(1)In case of a group registration in batch, participation fees will be reduced (50 people and above: 100 yen, 100 people and above: 200 yen) per person, only for pre-registration.
(2)Please contact Saitama Sport Commission (TEL:Domestic 048-762-8334, International +81-48-762-8334), Open 10:00-17:00 and Closed on Sat/Sun/national holidays) in advance.
Prizes for participants completing the walk for two days
Participants completing the walk for two days of the event will receive prizes (Rice 300g which is made in Minuma Tambo Rice Paddy).
We hope you enjoy walking for two days. (Distance does not matter.)
Special Lottery
The participants who win the lottery will receive the prize.(Rice 2kg which is made in Minuma Tambo Rice Paddy) Please check the back side of the certification.
This event has been certified by
Support
JR East Omiya branch office
Cooperating organizations
(Honorifics omitted, listed in random order)
Supervisor
Saita-March Executive Committee